Friday, June 16 2023
7:30 PM
St. Patrick Roman Catholic Church
130 East 4th Street
Erie, PA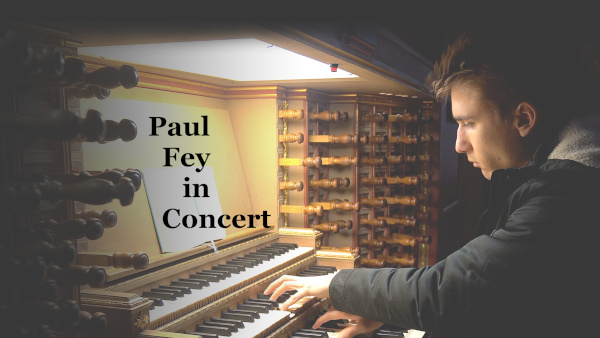 St. Patrick Roman Catholic Church in Erie, PA hosted German organist Paul Fey in recital on June 16, 2023. The concert, sponsored by Heritage Pipe Organs of Buffalo, NY, featured music by Bach, Karg-Elert, Kuhnau, and Mendelssohn; as well as original works by Mr. Fey.
Paul Fey has been playing instruments in Leipzig, Germany since he was very young. He now gives concerts globally, and produces his own organ videos. Learn more about Paul Fey and hear him play by visiting his YouTube channel: www.youtube.com/@PaulFey. You can also visit his website here: www.PaulFeyOrganist.com.
St. Patrick's pipe organ was originally built by A. B. Felgemaker of Erie, PA in 1906. After over 100 years of service to the parish, the organ was rebuilt by Heritage Pipe Organs thanks to the generosity of Morgan and Kathy Jacox. The rebuild included the addition of a vintage Pedal Trombone rank of pipes and a new Solo Tuba stop. In addition, Heritage provided a deluxe new drawknob console. The Jacox Memorial Pipe Organ was featured in the December 2021 issue of The American Organist Magazine. You can also tour the organ and hear a demonstration in a video published by the Organ Media Foundation: Demonstration by Bryan Timm.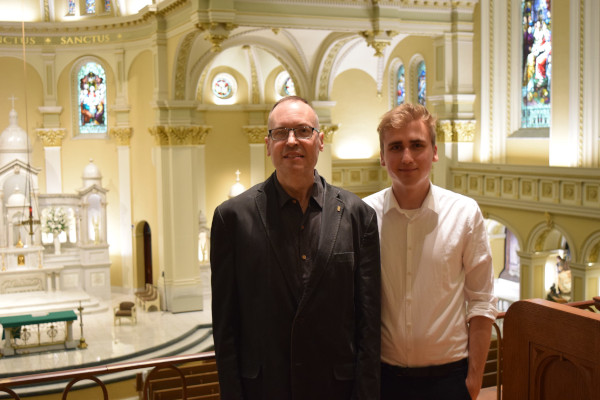 Pictured Left: Mark Alloway, St. Patrick's Music Director, Right: Paul Fey